28 December, 2015
BROCCOLI SOUP WITH SMOKED SALMON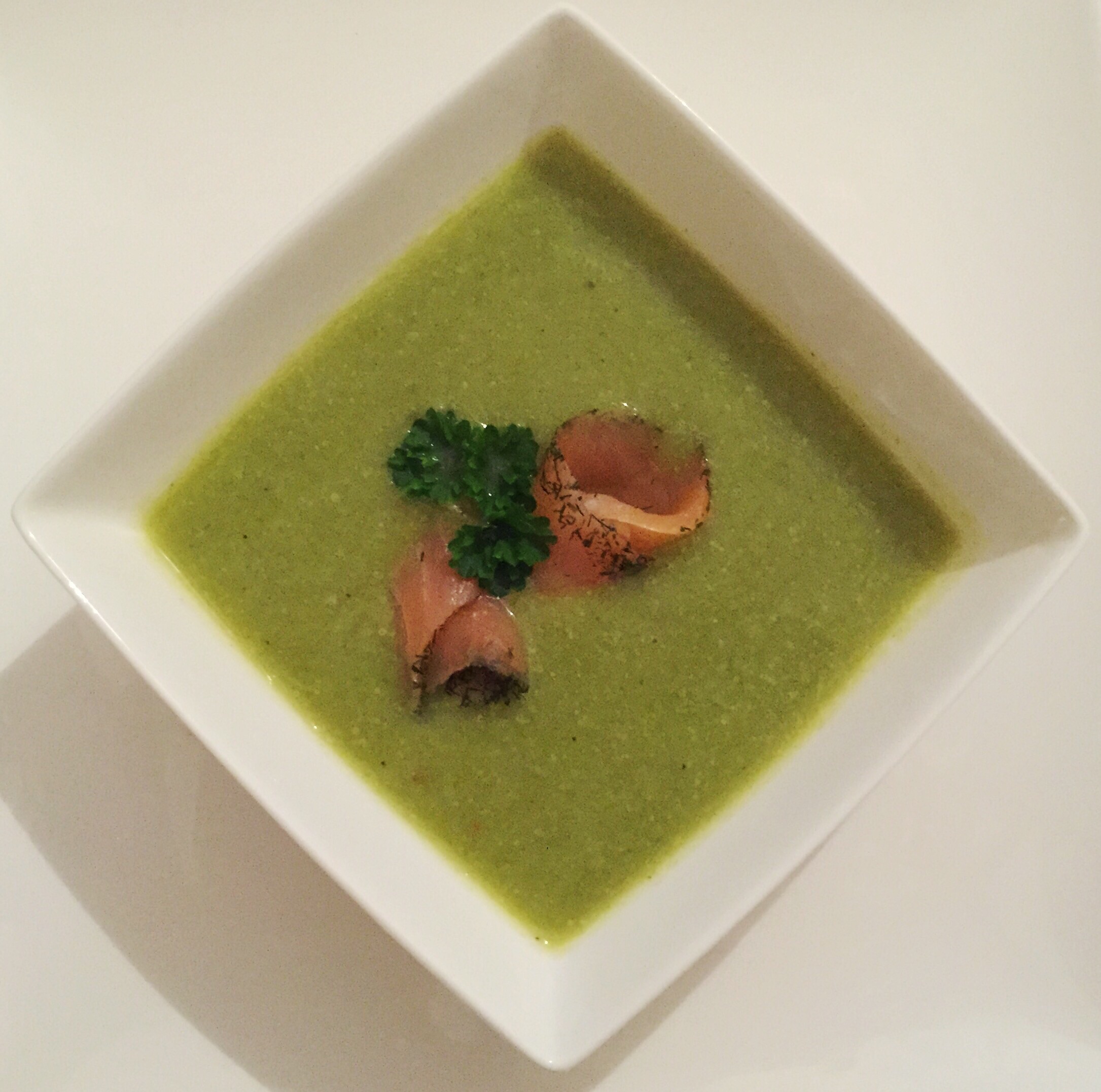 Comments : 3 Posted in :
COMFORT FOOD
,
FISHERMAN'S FRIENDS
,
SUPPENKASPER
,
USE NOT WASTE
on
by :
blonDISHious
Tags:
Broccoli
,
chicken stock
,
chillie
,
milk
,
potatoes
,
salmon
,
smoked salmon
,
Vegetable stock
I hope you all had an amazing Xmas in lovely company with lots of yummy food and nice drinks.
Mine was fab…even though I spent most of the time in the kitchen. What would have been the most possible nightmare for a lot of people filled me with joy and fun. It was a great pleasure to cook for my English family this year. It was the 6 of us and it was a bit of a challenge as none but me had had goose and dumplings before. I so wanted to show them what we traditionally eat in Germany for Christmas. Luckily it turned out to be a big success. Everybody loved the food. The meat was moist and lovely and the skin was crispy. Just the way it has to be. Phew!!! 😅
Often after a big meal with lots of different things to choose from there are leftovers. Also in our case. I hate to waste food, so I made this soup last night from leftover potatoes, broccoli, stock and salmon. And it turned out to be delicious and very creamy, even though I didn't use any cream. Just a bit of low fat milk.
It is a light and easy to make dish. Perfect after a few days of heavy feasting 😉.
And here we go…
INGREDIENTS:
1 broccoli (approx. 400 gr)
4 potatoes
250 ml chicken or vegetable stock
250 ml broccoli cooking water
250 ml milk
1 chilli
Smoked salmon (as much as you like)
Fresh parsley
Salt and pepper
METHOD:
(If you have potatoes and broccoli that are already cooked you can of course ignore the first steps in this recipe. In this case just use more stock or just plain water instead of cooking water)
Peel and quarter the potatoes
Cook them on a medium heat for about 10 minutes
Wash and roughly chop broccoli and add them to the cooking potatoes
Cook for another 10 minutes
Drain the veggies and collect 250 ml of the cooking water
Put vegetables, stock, milk, cooking water, and chilli in a blender and mix until smooth. You can also use a hand blender
Heat up the soup in a saucepan and season to taste
Serve with smoked salmon and a bit of parsley for decoration.
Enjoy!
Have a blonDISHious day,
Sabrina xxx
3s COMMENTS