16 December, 2015
FENNEL SALAD WITH BLUE CHEESE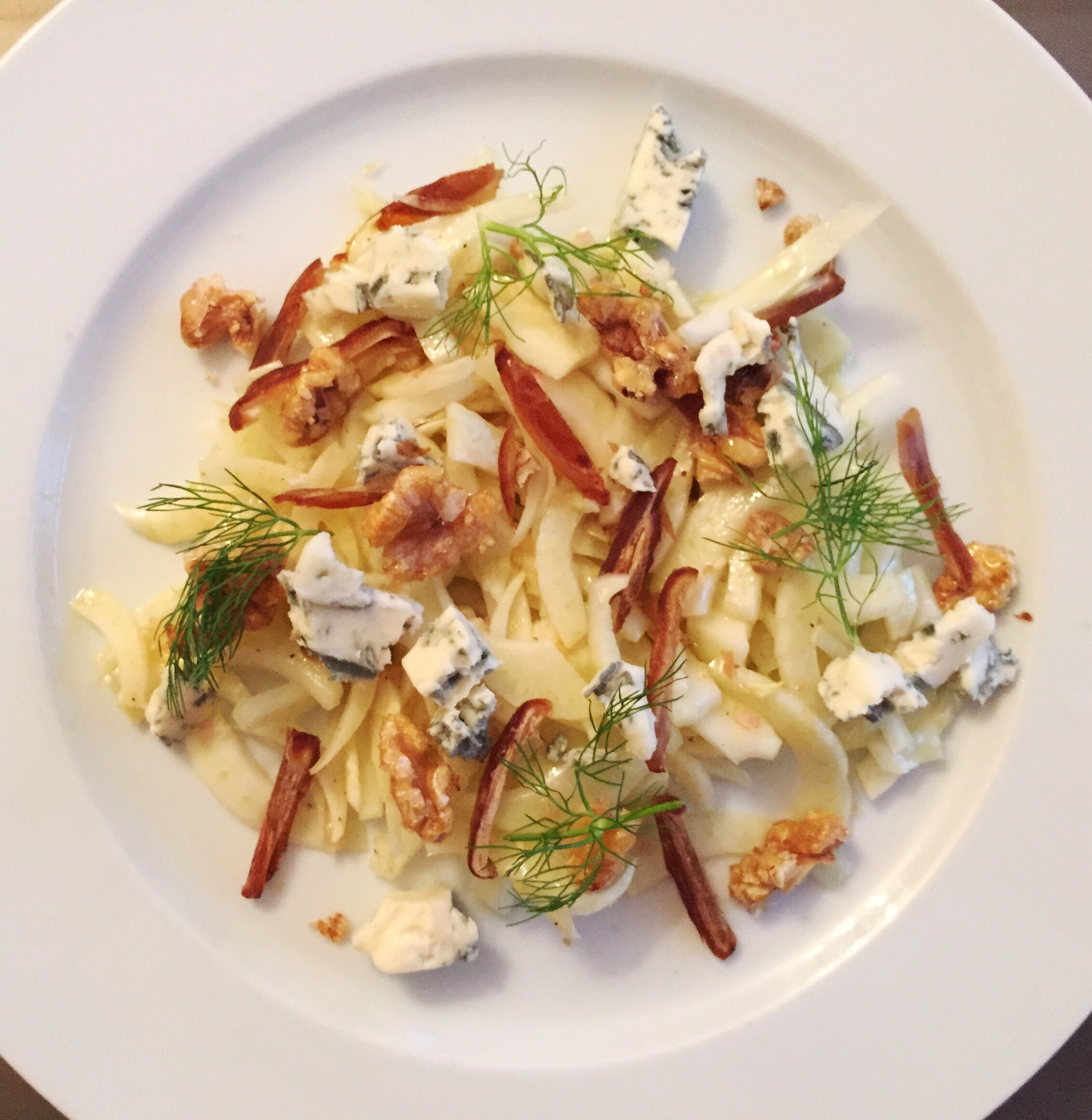 Comments : 1 Posted in :
PLEASE DO NOT MEAT!
,
THESE ARE MY SALAD DAYS
on
by :
blonDISHious
Tags:
blue cheese
,
dates
,
Fennel
,
mustards
,
olive oil
,
shallots
,
vinegar
,
Walnuts
As a kid I never liked fennel much. I don't really know why because I don't mind the taste. Maybe just because it always reminded me on tummy problems… 😉 Mums like to give fennel tea to their babies to aid digestive problems. And it really works. But besides of a natural and healthy medication it is actually a versatile vegetable. It can be eaten raw in a salad, baked in the oven or cooked in a stew. Raw it is crunchy, a little bit sweet with a touch of anise. So I thought I should give it a chance to become my friend when I saw it in the supermarket the other day. I took it home and made this salad..and also made a lovely chicken fennel ragout (whose recipe I will share on this blog shortly). And what can I say? Fennel did not only become my friend. I fell in love with it. Head over heels!
Give it a try and let me know what you think, please.
So, here we go:
INGREDIENTS:
For the salad:
1 fennel bulb
2 tbs sugar
1 handful of walnuts
50 gr blue cheese (crumbled) – you can use Blue Stilton, Gorgonzola or any kind of firm blue cheese you like
6 dates (pitted and cut in thin slices)
For the vinaigrette:
1 shallot (chopped)
2 tbs olive oil
3 tbs vinagar (malt, wine or sherry but no balsamico)
1 tsp mustard
salt & pepper
METHOD:
Wash the fennel
Pick off the fennel greens and put aside (you will need them for decoration)
Cut the fennel lengthwise and remove the core from both halves
Use the slicer side of your grater to cut the fennel pieces into thin slices. Of course you can also use a knife if you don't have a grater handy
Put fennel aside
Add an even layer of white granulated sugar to a small saucepan. Place it over a medium-high heat. After about 1 or 2 minutes it will start to melt. At this point, the sugar syrup should be clear in color. When it turns slightly brown add the walnuts and stir with a wodden spoon. Take the caramalized nuts out of the pan and place them on a wooden board to cool down. You might need to seperate the walnuts as long as they are still hot. Otherwise they would all stick together in one big lump. Remember that the caramel is very hot. So don't burn yourself!
Now cut the dates in thin slices and crumble the cheese.
Mix ingredients for the vinaigrette.
Combine fennel, vinaigrette, caramelized walnuts and dates on a plate
Decorate with fennel greens
Enjoy!
Have a blonDISHious day,
Sabrina xxx
1 COMMENT