31 October, 2017
HALLOWEEN SPECIAL: STUFFED BUTTERNUT SQUASH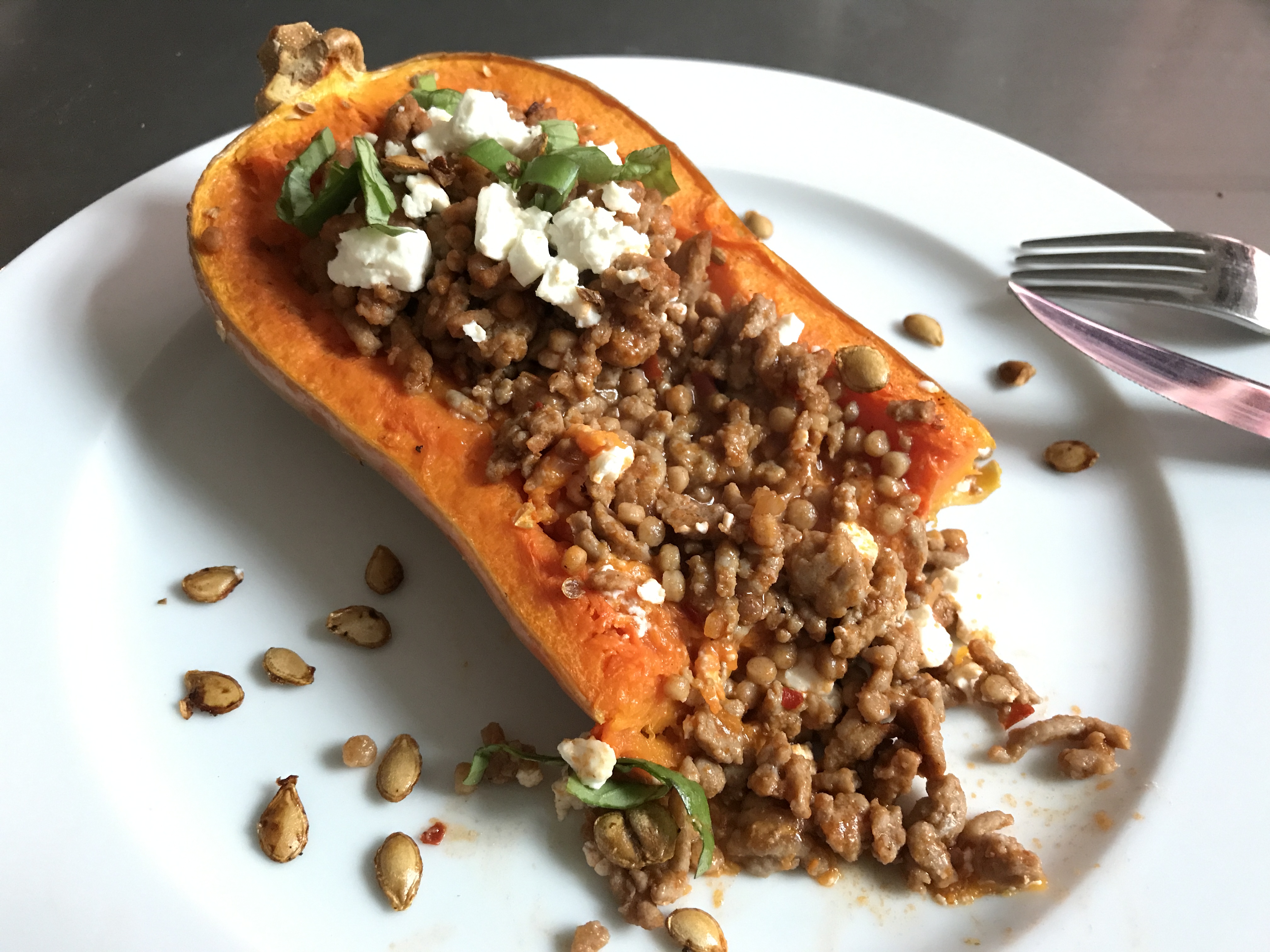 Comments : 2 Posted in :
CHEESE PLEASE!
,
CHICKEN FASHION SHOW
,
COMFORT FOOD
,
SMASHING PUMPKINS
on
by :
blonDISHious
Oh dear! It's that time of the year again. Halloween 🎃
I never really liked it much. Mainly because I am more of a "pussy" when it comes to horror films and creepy creatures. As a child I hated ghost train rides and watched scary films mostly through my fingers. Well, this hasn't changed….ask my boyfriend 👻 But I started to enjoy the fun part of Halloween in the past few years. Dressing up and being creative with frightening costumes is so much fun. This year I decided to go for a scary catwoman style…based on my "pussy" behaviour in regards to frightening films 🙀
To be honest, I am still not braver…but at least I try to enjoy and share the Halloween vibe. I am getting better, year by year.
What I definitly loooooove about this time of the year are pumpkins/squashes. They are so yummy. Pumpkin soups are quite common. But I know quite a lot of people that don't like them much or have simply got bored of them.
Here is a yummy dish for you to check out. It is definitly one of my favourite squash dishes. Easy to make, inexpensive and so good.
And here we go:
Ingredients:
1 medium sized butternut squash, halved and seeded (don't throw away the seeds!!!)
2 tbsp olive oil
1 small onion
500g minced chicken or turkey
1 tbsp tomato purée
1 tsp ground cumin
100g giant couscous (pearl couscous)
200ml water
100g feta, crumbled
salt & pepper
herbs for decoration (parsley, basil or mint)
Method:
Place squash halves and the seeds on a baking sheet.
Drizzle with 1 tbsp olive oil and season to taste.
Put in the oven (180 C°).
Cook for about 20 – 30 mins (depending on size of the squash).
Make sure you don't burn the seeds. You might have to take them out a bit earlier than the squash itself. They should be crisp with medium brown colour.
In the meantime heat 1 tbsp of oil in a pan over a high heat.
Cook the chopped onion until translucent.
Add the minced chicken and cook for about 10 mins.
Add the purée, cumin and giant couscous and 200ml of water and stir.
Cover, and turn down heat to low.
Let simmer for about 10 mins.
Once the squash has softened take it out of the oven.
Scoop out the flesh and chop.
Mix the chopped squash with half of the cheese and stuff the butternut squash halves.
Once the giant couscous (chicken mix) has softened pile on top of squash halves.
Season to taste (but be careful with salt as feta is already quite salty).
Finally top with remaining feta.
Put the stuffed halves back in the oven and grill for a few minutes.
Decorate with herbs and roasted seeds.
You can replace the minced chicken with minced beef, lamb, rice, soya mince, lentils, quinoa or just add more couscous.
If you can't find any giant couscous you can of course use regular couscous.
Enjoy,
Sabrina xxx
2s COMMENTS