11 August, 2016
LOW CARB FRITTERS WITH SMOKED SALMON AND HORSERADISH YOGURT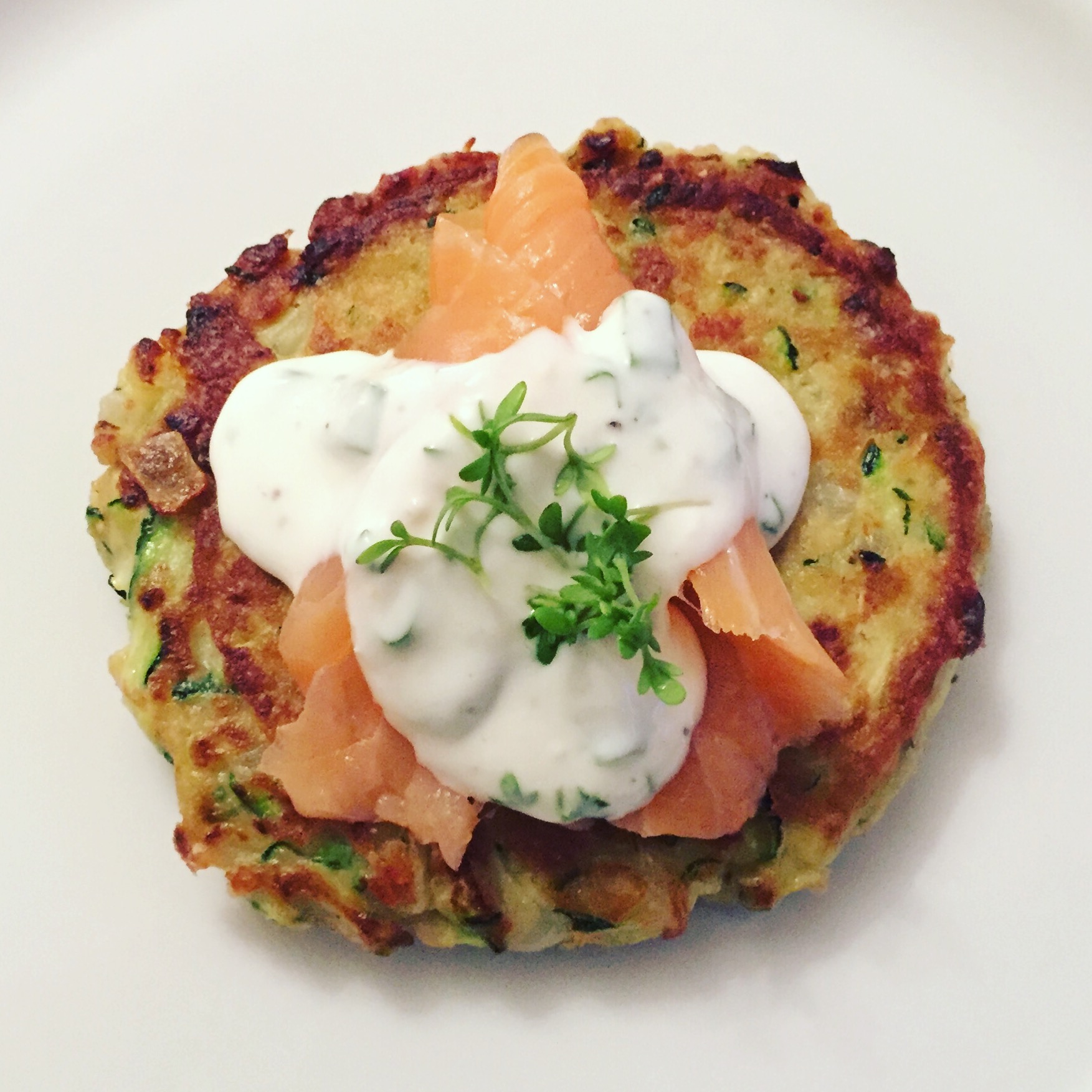 Comments : 5 Posted in :
FISHERMAN'S FRIENDS
,
SHAPECARE OVER SHAPEWEAR
on
by :
blonDISHious
Tags:
cornflour
,
Courgettes
,
eggs
,
garlic
,
herbs
,
horseradish
,
oat flakes
,
oil
,
onions
,
Parmesan cheese
,
salmon
,
smoked salmon
,
yogurt
,
zucchini
When on holiday I love to feast like there's no tomorrow. Local specialities, fried "whatevers", ice cream, cocktails, G&Ts, champers…bring it on. All! Everything! Loads! You have no idea how many times I've said on my recent hols in Portugal: "Why not? I'm on holiday."
Life is full of restrictions in our every day routine. So who wants to eat and drink like a bird when one can live the life of a majestic horse and eat like one on vacation? I don't know about you guys, but my reality is quite disillusioning: When I eat and drink like a horse I will soon start to transform into a pot belly donkey. Nothing wrong with that 'cause donkeys are actually very cute. But not so much majestic and graceful. And in order to spare myself from having to buy a complete new wardrobe (besides shoes, socks, hats and bags) I have to go back to a more healthier and lighter way of eating and drinking after my holiday.
For me it always works fine to drag myself back to the gym 2 or 3 times a week and cut down the booze & choccies and go easy on the carbs….especially in the evenings. Therefore I am always open for new inspiration in regards to low carb dishes.
Yesterday evening I had this craving for potato fritters. I always loved them. They are so good with stewed apples. One of my favourite dishes when I was a kid. But also with smoked salmon and a horseradish sour cream dip. Yum Yum Yum! But sadly this dish is quite fattening. But if you swap potatoes for courgettes you've already cut down the carbs quite impressively:
100 g potatoes = 17 g carbs
100 g courgettes = 3 g carbs
And if you then swap sour cream for low fat yogurt you have saved a lot of fat as well:
100 g sour cream = 20 g
100 g low fat yogurt = 3,5 g max (there are even lighter ones with only 0,1 g)
Salmon is a fat fish, yes. But it's known for its good beneficial omega-3 fats. If you don't go too mad on the portion you'll be fine! I added just a little slice of smoked salmon to my dish.
In case you don't like or eat fish you could alternatively have a small green or tomato salad with it. Or simply eat the fritters with some roasted or steamed vegetables.
And here we go:
INGREDIENTS: (serves 4 people)
250 g plain yogurt (low fat, if possible)
1 – 2 tsp of freshly grated horseradish (if you can't get a fresh root buy a jar of horseradish)
2 tsp chopped herbs of choice (cress, parsley, chives, springonion)
500 g courgettes
1 onion (chopped)
1 garlic clove (minced)
50 g parmesan cheese (grated)
250 g oat flakes (Scottish oats) – for the Germans: kernige Haferflocken!
3 eggs
1 large tbs cornflour
salt & pepper
smoked salmon or salad or steamed/roasted veggies of your choice
METHOD:
Horseradish yogurt:
Mix yogurt, horseradish and season to taste.
Add freshly chopped herbs.
Set aside.
Courgette fritters:
Grate the courgettes on a box grater.
Put the grated veggie in a sieve and add a small teaspoon of salt.
Let it rest for a few minutes to release some juice.
Squeeze the courgettes out by using your hands and put them in a mixing bowl.
Add the oat flakes, onion, harkic, the eggs, the parmesan cheese, the cornflour, salt & pepper and stir with a large spoon or mix with your hands until all ingredients are combined.
Heat 2 – 3 table spoons of olive oil in a large pan on high heat.
Take a large scoop of the batter and dump it into the hot pan.
Now gently flatten the fritter with the back of the scoop or a spoon.
Cook for about 3 minutes but carefully check that the fritter doesn't turn to dark or even burn.
When brown enough flip and let the other side cook for the same amount of time.
Add more oil if neccessary in order to prevent sticking…but don't drown the fritter in oil (remember the pot belly donkey) 😉
Remove the fritter from the pan to a plate covered with kitchen paper to drain before service.
Serve with salmon and horseradish yogurt.
Enjoy!
Have a blonDISHious day,
Sabrina xxx
5s COMMENTS