27 June, 2016
CHICKEN SURF & TURF ON MINTED PEA PURÉE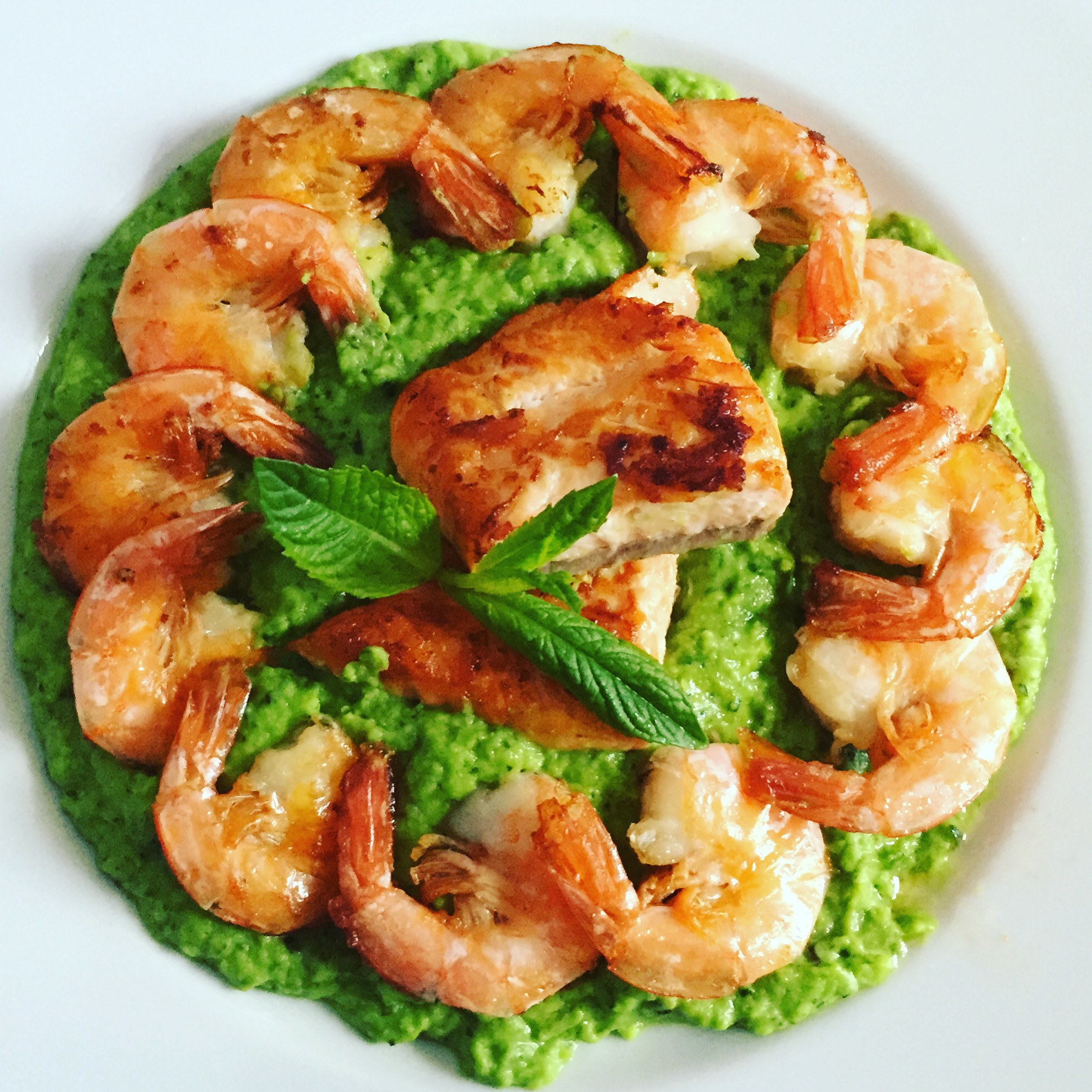 Comments : 1 Posted in :
CHICKEN FASHION SHOW
,
FISHERMAN'S FRIENDS
,
RECIPES
on
by :
blonDISHious
"Mit Pfefferminz bin ich dein Prinz", this is the title of a German song by an artist called Marius Müller Westernhagen Even though I was never a massive fan of his music I couldn't agree more with this statement. It means "With peppermint I am your prince". Well, princess in my case 😉
I love mint in all possible ways. Fresh mint tea is my favourite in the mornings (no, I don't do coffee…YUCK!). I'm addicted to mint chocolate. Especially After Eights! Mint icecream is most refreshing on a hot summer day. When I go to an Indian restaurant I always order naan bread with mint yogurt. And a British Sunday roast is not a proper British Sunday roast without a good blob of mint sauce. And I could go on and on and on…
Today I share the recipe for a minted pea purée. No matter if you combine it with meat, seafood or chicken it will always be the prince (or… princess) on the plate.
In this recipe I have chosen king prawns and chicken to serve and accompany her Royal Highness, the minted pea purée 👸
And here we go…
INGREDIENTS: (serves 2)
Minted pea purée:
1 small onion
1 garlic glove
1 tbs butter
500 gr frozen peas
1 large handful of fresh mint leaves
100 ml chicken stock
2 – 3 tbs cream
pinch of grounded nutmeg
1 tbs of lemon juice
salt & pepper
Surf & chicken turf:
2 tbs olive oil
2 chicken breast
king prawns (as many as you like to eat)
salt & pepper
METHOD:
Peel the onion & garlic and chop them
Heat the oil in a frying pan over a medium heat
Add the onion & garlic and gently fry until softened and translucent (takes about 5 minutes)
Add peas and chicken stock and let simmer for about 10 minutes
In the meantime heat olive oil in a large frying pan over a high heat and fry chicken breast on both sides until brown. Lower the heat and let them cook (depending on the thickness of the chicken breast) for another 5 – 8 minutes until cooked through
Wrap the chicken breasts in aluminum foil to keep them hot, set aside
Now fry the king prawns in some olive oil for about 2 minutes on each side
Put the peas in a blender and add the fresh mint leaves, cream, nutmeg & lemon juice
Purée until nice and smooth
Season to taste, serve with king prawns & chicken on a plate
Decorate with fresh mint leaves.
Vegetarians could swap meat/seafood for halloumi cheese or tofu. Also very tasty.
Enjoy.
Have a blonDISHious day,
Sabrina xxx
1 COMMENT