12 April, 2016
SWEET POTATO SPINACH GRATIN WITH GRILLED GOAT CHEESE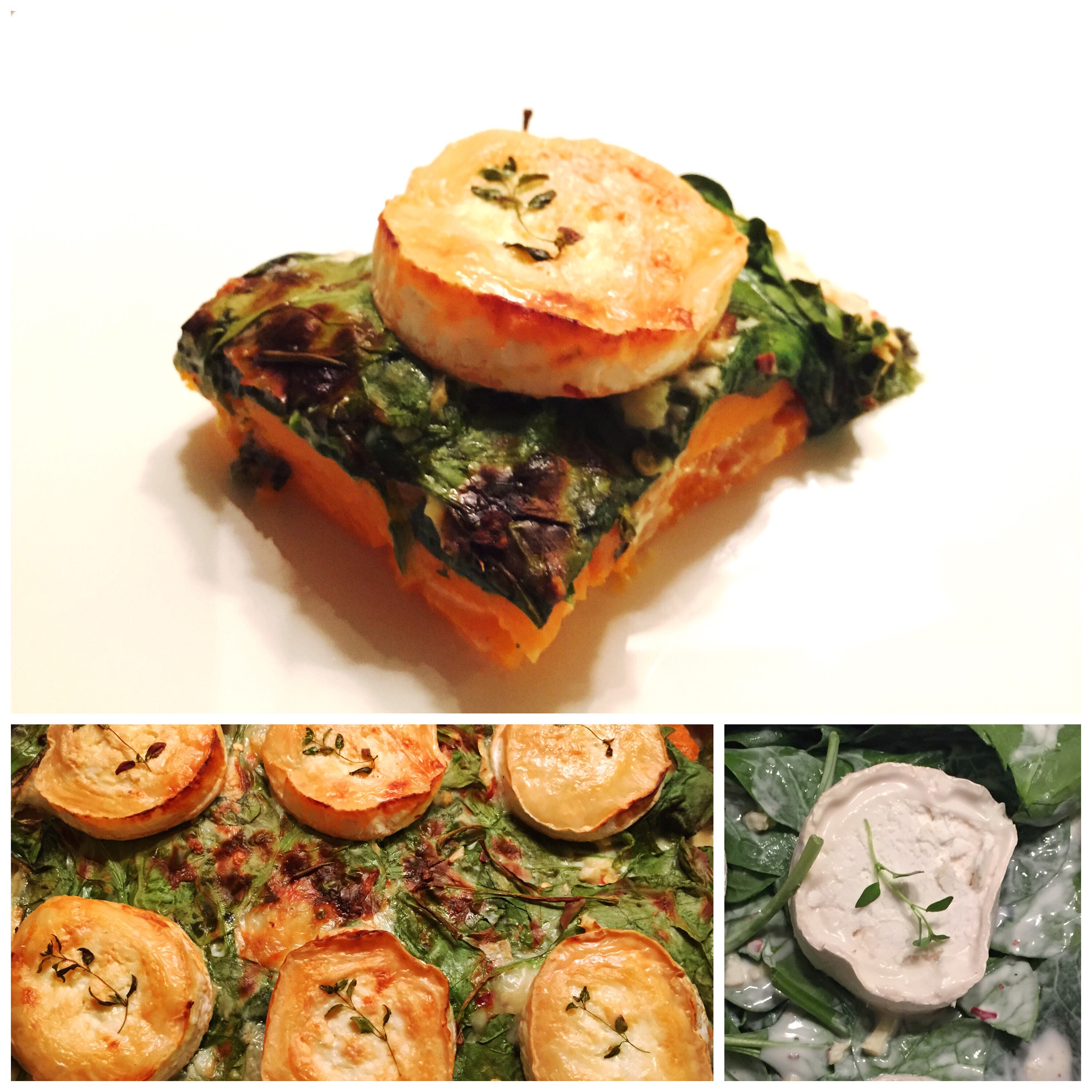 Comments : 4 Posted in :
CHEESE PLEASE!
,
PLEASE DO NOT MEAT!
,
STEWS & CASSEROLES
on
by :
blonDISHious
Tags:
cheese
,
crème fraîche
,
garlic
,
ginger
,
goat cheese
,
milk
,
olive oil
,
pepper
,
salt
,
spinach
,
Sweet potato
,
thyme
"My goodness, THE most moreish thing I've ever eaten. U have to have it. A bit like Lord Of The Rings #myprecious" …this is what my boyfriend tweeted the other day after we'd had this sweet potato spinach gratin for dinner.
I will never forget the look on his face when I caught him "cleaning the edges" around the last piece left on the tray (actually he was suppose to do the dishes in the kitchen but instead he helped himself to thirds – or was it even  fourths? – straight out of the baking dish). I haven't laughed this hard in a  long time.
But to be fair, he did the dishes after all. Bless him!
Well, I am not going to waste any more words. Let the food do the talking. But one last thing: BE WARNED! This dish is highly addictive. You might find your partner morphing into Gollum, holding on tight to the baking dish, snarling "My precious…"
And here we go…
INGREDIENTS: (serves 2)
2 – 3 big sweet potatoes
200 g fresh spinach (washed)
6 slices of goat cheese roll (with rind)
200 gr crème fraiche
80 ml milk
1 garlic clove (pressed)
2 cm ginger (minced or grated)
chili flakes or fresh chilli
salt & pepper
fresh thyme
METHOD:
Preheat the oven to 160°C
Peel the sweet potatoes and cut them in slices (not too thin, not too thick – approx. 0,5 cm)
Cook them in slightly salted water for about 5 – 6 minutes & drain the sweet potatoes
Butter or lightly oil a baking dish
Layer the sweet potato slices evenly in the baking dish and season to taste
Arrange the fresh spinach on top of the sweet potato slices
Mix crème fraiche with milk, add the grated ginger, chilli flakes (or chopped fresh chilli) and minced garlic and stir with a fork or whisk (don't blend the mix! It is nicer to have little chunks of ginger and garlic to chew on)
Season to taste and pour over the veggies
Top with slices of goat cheese roll
Place fresh thyme on each piece of cheese
Put the gratin in the oven and bake for 25 – 30 minutes
To make the cheese extra crisp grill the gratin for another 2 – 3 minutes but make sure not to burn the cheese! Keep a good eye on it 😉
Enjoy!
Have a blonDISHious day,
Sabrina xxx
4s COMMENTS