19 March, 2016
HABANERO THAI CHILLI SAUCE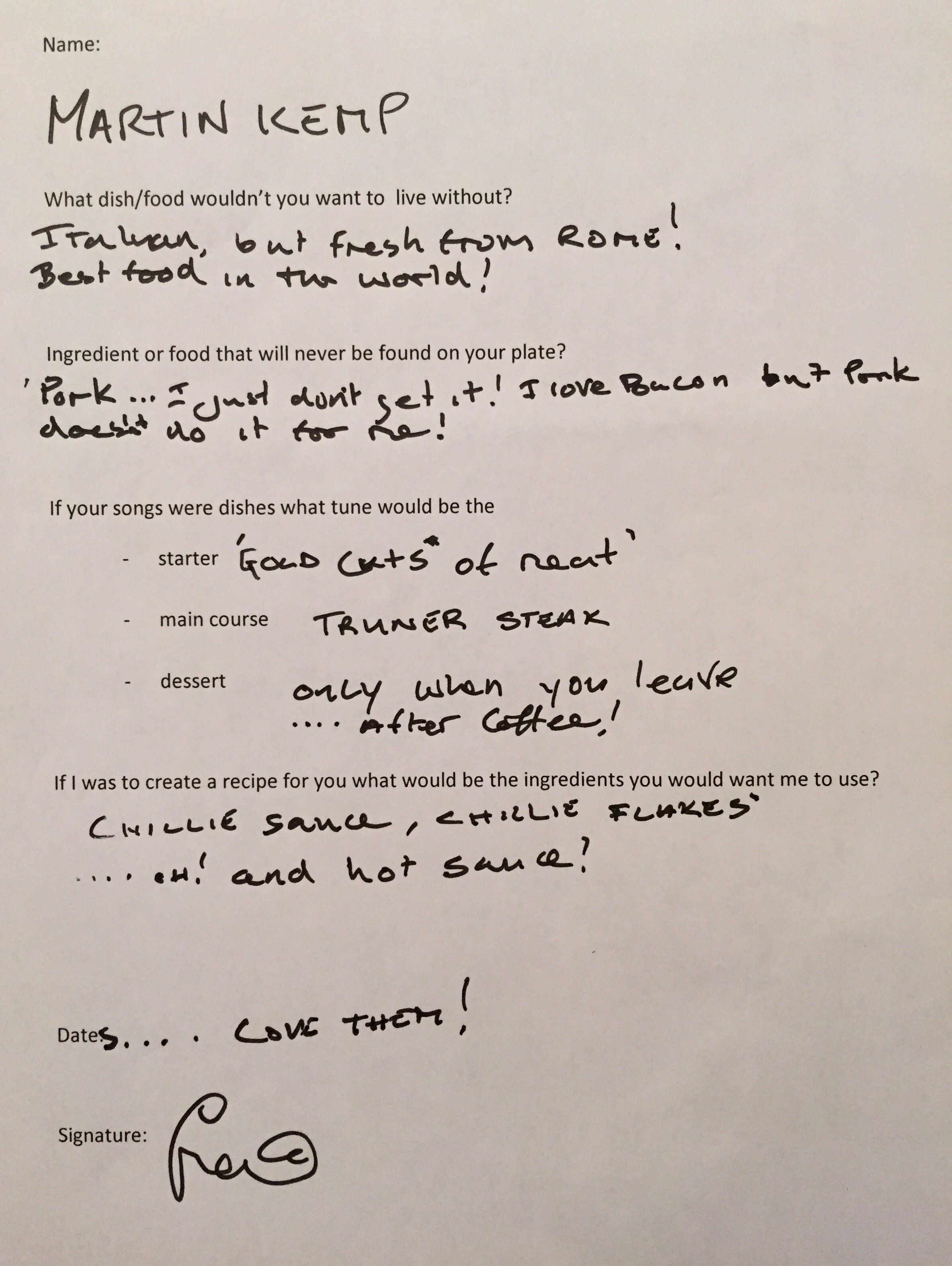 Comments : 6 Posted in :
DINE STAR
,
SPICE PEARLS
on
by :
blonDISHious
Tags:
BIRDS EYE CHILLI
,
Chilli
,
garlic
,
HABANERO
,
olive oil
,
onion
,
pepper
,
THAI CHILLI
My new DINE STAR has by far the bluest eyes you have ever seen. And if people say George Clooney is the most handsome "silver fox" on this planet they haven't seen him yet:
MARTIN KEMP,
bass player with British multi-platinum records selling band SPANDAU BALLET.
But there is much more to "Mart" (as his friends call him) than his stunning looks and his great bass playing skills. He is also a very talented and successful actor. He played the character Reggie Kray in the fact-based movie "The Krays" alongside his brother Gary Kemp. Martin was also a longterm cast member of "EastEnders", a very successful British soap opera. He has appeared in numerous other films, is a well respected film director, was one of the 3 finalists in the British "Celebrity Big Brother" house, wrote the best-selling autobiography "True" and so on and on and on…
But more importantly Martin is an authentic and honest soul. If you get to know him you'd be amazed what a sweetheart he is. It is always wonderful to see him and his equally lovely wife Shirley. They have been married for 28 years…and they are an inspiration!
Ok, end of praise 😉 Let's talk about food…
When I asked Martin if he would like to contribute to my blog it took him not even a second to say "OF COURSE". Steve, Martin, Shirley and I were in Ibiza at that time, feeling a bit down because the Spandau Ballet gig that was planned to take place over there needed to be cancelled short notice due to sickness of poor John Keeble. However, we all made the best out of it and enjoyed the extra free hours by the pool at the legendary PIKES HOTEL. A place where you can still feel the vibes of the artists that either stayed or passed through Pikes. Just check out all the great photos of legends that are displayed around the reception area and you know what I mean. There are also a couple of Spandaus tucked away in there somewhere. You surely remember Wham's "Club Tropicana". The video was shot here. Sadly, despite what Wham say, the drinks are not for free 😉
Martin filled out the questionnaire by the pool in the most sizzling of sunshines. So his decision to go "hot" in his ingredients he wanted me to use for his dish might have been influenced by the hot Spanish sun…
When you look at what he asked me to use for his recipe there was only one direction to go: a spicy chilli sauce. You want heat? You'll get heat! But better be ready, Mart. This is going to blow your socks off.
I used a combination of Habenero chillies and bird eye chillies. A touch of Cayenne pepper sealed the hot deal. I baked the garlic to give the sauce a bit of a roasted aroma. Thyme doesn't take away the heat but makes it taste a bit more mediterranian.
Trust me, I love spicy food and I always go a bit mad on my plate when it comes to hot sauce…and even I had a little tear in my eye. But I looooooved it 😉 People that enjoy hot food will know exactly what I mean. And so will Martin, I hope.
And here we go:
INGREDIENTS:
150 g Habanero chillies
50 g bird eye chillies
1 tbsp olive oil
1 garlic bulb
1 large onion
3 tbsp apple or wine vinegar
1/2 tsp Cayenne pepper
thyme
salt
METHOD:
Peel the garlic cloves and place them on a baking tray
Roast them in the oven on 180°C until lightly brown (that will take about 20 minutes)
In the meantime remove the stalks from the chillies and roughly chop them (I recommend to use kitchen gloves)
Peel the onion and chop it not too fine
Put the olive oil in a pan and heat it up on a medium heat
Add the onion to the pan and cook until translucent
Take the garlic out of the oven and add it to the pan with the onion
Put the chillies in there, give it a good mix and simmer for about 30 minutes
Stir occassionally
After 30 minutest remove from the heat
Once the mix cooled down put it in a blender and puree until nice and smooth
Add vinegar, thyme, salt and Cheyenne pepper
Pass the mix through a sieve and pour a little bit of water in the sauce to make it a more liquid, if neccessary
Store the sauce in a sealed glass jar or little bottle.
Enjoy!
Have a blonDISHious day,
Sabrina xxx
ARTIST INFO:
Martin is currently touring with "An Audience With Martin Kemp" all over the UK. He also plays the Childcatcher in the musical "Chitty Chitty Bang Bang" until 24 April 2016.
SOCIAL MEDIA:
TWITTER
FACEBOOK
INSTAGRAM
TOUR:
BUY TICKETS HERE
CHITTY CHITTY BANG BANG:
WEBSITE
6s COMMENTS