10 March, 2016
TUNA STUFFED ZUCCHINI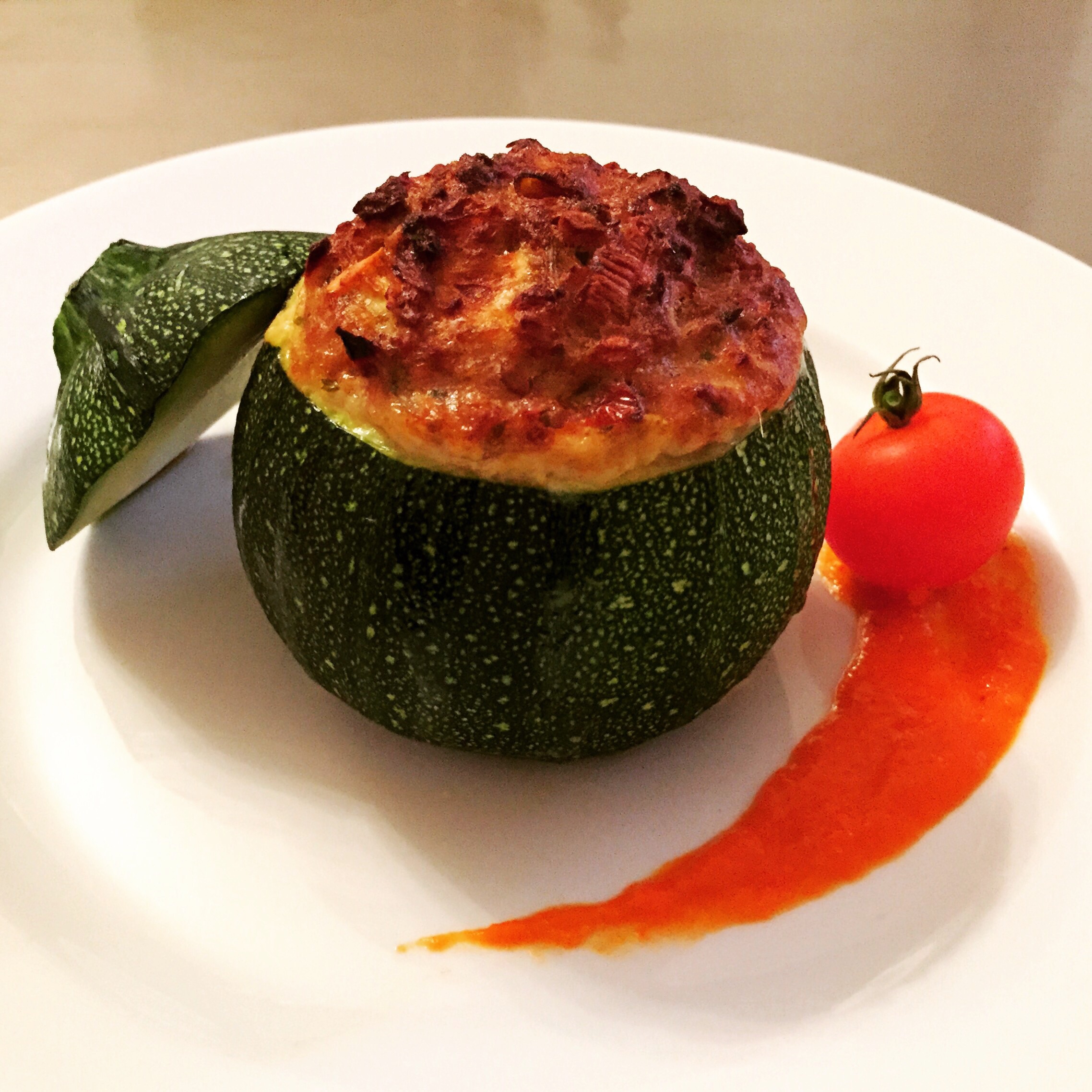 Comments : 4 Posted in :
FISHERMAN'S FRIENDS
,
SPICE PEARLS
on
by :
blonDISHious
Tags:
anchovies
,
bread
,
capers
,
dried tomatoes
,
egg
,
garlic
,
milk
,
olive oil
,
onion
,
Parmesan
,
parsley
,
tuna
,
zucchini
For some people zucchini is a boring vegetable. Well, it surely isn't famous for an outstanding taste of its own. In fact it can be quite tasteless. But with the right ingredients added and a good recipe it can be so yummy.
For those of you that wanna lose a few pounds the major benefit is its low calories (only 17 per 100 gr). Whoohoo! So, this is your perfect all-you-can-eat veggie.
It contains no saturated fats or cholesterol, is heart-friendly and is a good source of potassium. In fact it even helps to reduce blood pressure and is rich in vitamin A and C. And these are just a few of many great benefits a zucchini provides.
If you are still not convinced, hopefully this recipe will change your mind. The tuna fish in combination with the salty anchovies and capers is to die for. The milk soaked bread and the egg keep the stuffing nice and moist. The dried tomatoes and parsley add a touch of freshness. To spice it up I added my selfmade habanero chilli sauce, its recipe I will share with you in a few days – my next (and long overdue) "Dine Star" recipe, by the way 😉
Hungry? I certainly am now!
And here we go:
INGREDIENTS: (serves 2)
2 zucchini (ideally round ones)
1 tbsp olive oil
1 onion (chopped)
1 garlic clove (minced)
5 anchovies in oil (chopped)
2 – 3 dried tomatoes (chopped)
1 slice of sandwich bread
30 ml milk
1 can of tuna (in oil) – vegetarian alternative: use rice, couscous or green spelt instead of tuna fish
1 egg
2 tbsp Parmesan cheese (grated)
1 tbsp capers
1 tbsp parsley (chopped)
salt & pepper
METHOD:
Wash the zucchini and boil in salted water for about 10 minutes
Soak the bread in milk (once it soaks up the milk squeeze excess liquid out of the bread and set aside)
Put olive oil in pan and add onion and garlic and saute until translucent
Add anchovies and dried tomatoes
Drain zucchini and rinse with cold water to cool them down
Remove the top of the zucchini and set aside
Scoop out the zuccini, chop the pulp and add to the pan with the onion, garlic, etc.
Cook for about 3 – 5 minutes
Put mixture from the pan, tuna, parmesan, egg, parsley, capers, milk soaked bread and pulp of zucchini in a large bowl
Stir with a spoon until you get a homogenous mix
Season to taste (but be careful with the salt. Anchovies and capers are quite salty already)
Stuff the zuccini with the mix and place them on a lightly buttered baking tray
Bake in the oven at 150° C for about an hour (I add the tops of the zuccini in the oven for the last 15 minutes)
Serve with hot sauce and decorate with tomatoes, herbs or salad (whatever you prefer…be creative)
Enjoy!
Have a blonDISHious day,
Sabrina xxx
4s COMMENTS