14 January, 2017
BEETROOT SOUP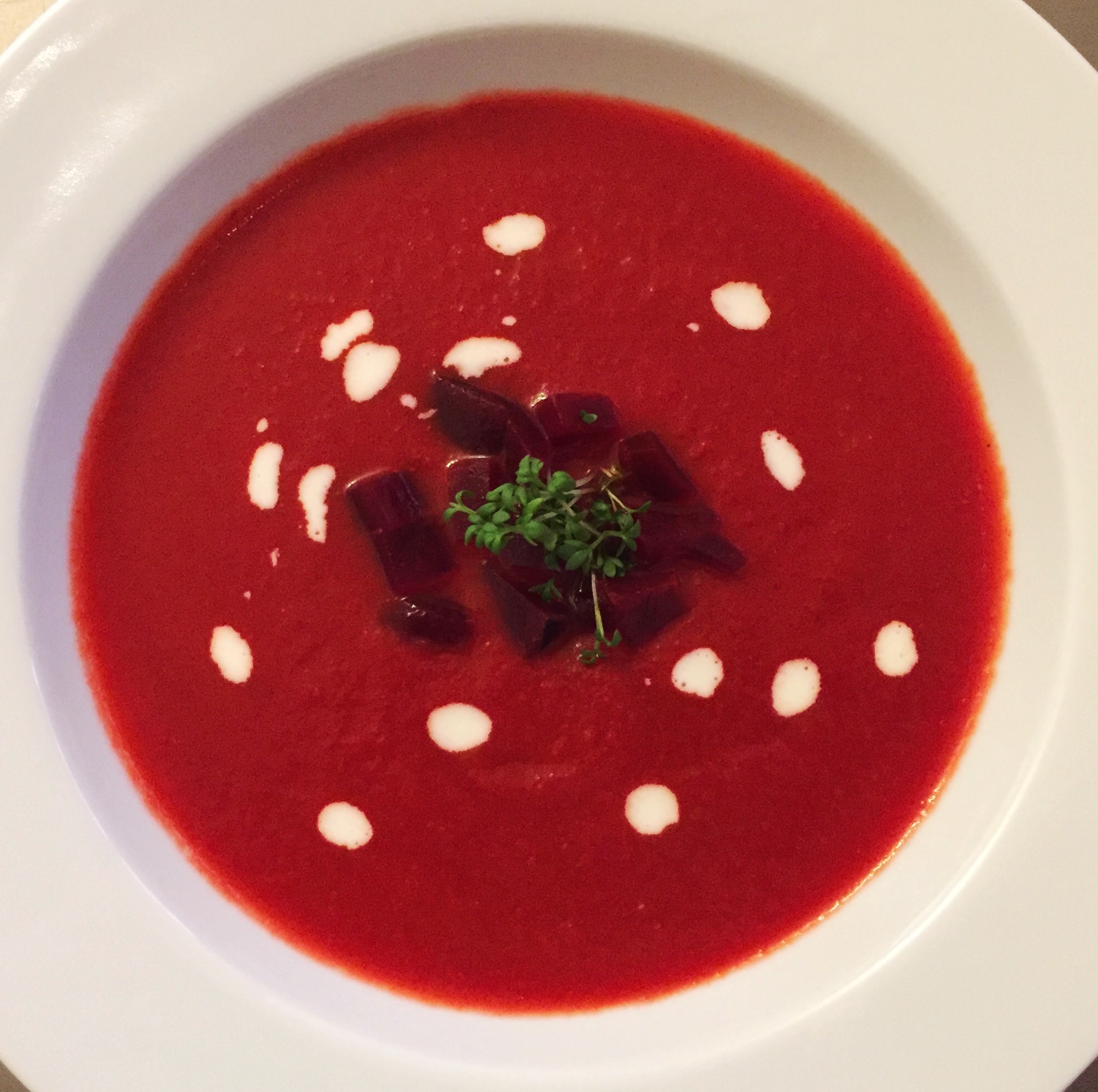 Comments : 1 Posted in :
SUPPENKASPER
on
by :
blonDISHious
Tags:
Beetroot
,
celeriac
,
cream
,
garlic
,
onion
,
pepper
,
red pepper
,
tomato
,
tomato juice
,
Tomatoes
,
vinegar
January. The month when diets & detox get promoted the most…on TV, in magazines, on the internet.
I personally don't believe in extreme diets. Whenever I tried to entirely avoid sugar, fats & carbs in the past I couldn't stop thinking and longing for exactly that: sugar, fats & carbs. Fortunately I am blessed with a strong willpower. Therefore I can resist the temptations for a while. But once I am "allowed" the forbidden again, "Yo-Yo" comes knocking on my door and all the effort goes down the drain. Does that sound familiar to you? I bet it does 😉
In the long run I find it more effective to eat whatever I like and love but in moderation and I try to balance out naughty snacking with a very light and healthy lunch and dinner. And of course go for a run occassionally or spend some time on my WaterRower…I know I should do it more often.
A very light dish I love and can highly recommend is beetroot soup. It's quite filling, very yummy and healthy. Beetroot is low in fat, full of vitamins and minerals and packed with powerful antioxidants. Same goes for red pepper (the vegetable, not the spice) that I used for this dish to accompany the beetroot and gives the soup a lovely twist. I used smoked garlic but regular garlic will do nicely too, in case you can't get hold of the smoked one.
And here we go:
INGREDIENTS:
500 – 600 gr beetroot (cooked)
1 tbs olive oil
1 onion (ideally red)
1 red pepper
1 garlic bulb (smoked if available)
1 celery stick
1 tin of chopped tomatoes
1 tbs vinegar
200 ml tomato juice
chilli flakes
salt & pepper
sour cream
cress, watercress, basil or parsley (for decoration)
METHOD:
Chop the onion, the red pepper, the celery stick and mince the garlic.
Heat the olive oil in a medium to large saucepan.
Add the onion and cook until translucent.
Add the garlic, the pepper and the celery stick.
Cook for about 8 – 10 minutes on a medium heat.
Pour the tomatoes, tomato juice and the vinegar over the vegetables and stir thoroughly.
Cook for another 8 – 10 minutes.
Add 3/4 of the chopped beetroot and put the leftover beetroot aside.
Cook for a further 5 minutes.
Puree the soup and press it through a sieve, then season to taste and add chilli flakes.
If the soup is too thick add more tomato juice.
Serve with the leftover beetroot pieces, sour cream and herbs.
Enjoy,
Sabrina xxx
1 COMMENT