6 January, 2016
FENNEL CHICKEN RAGOUT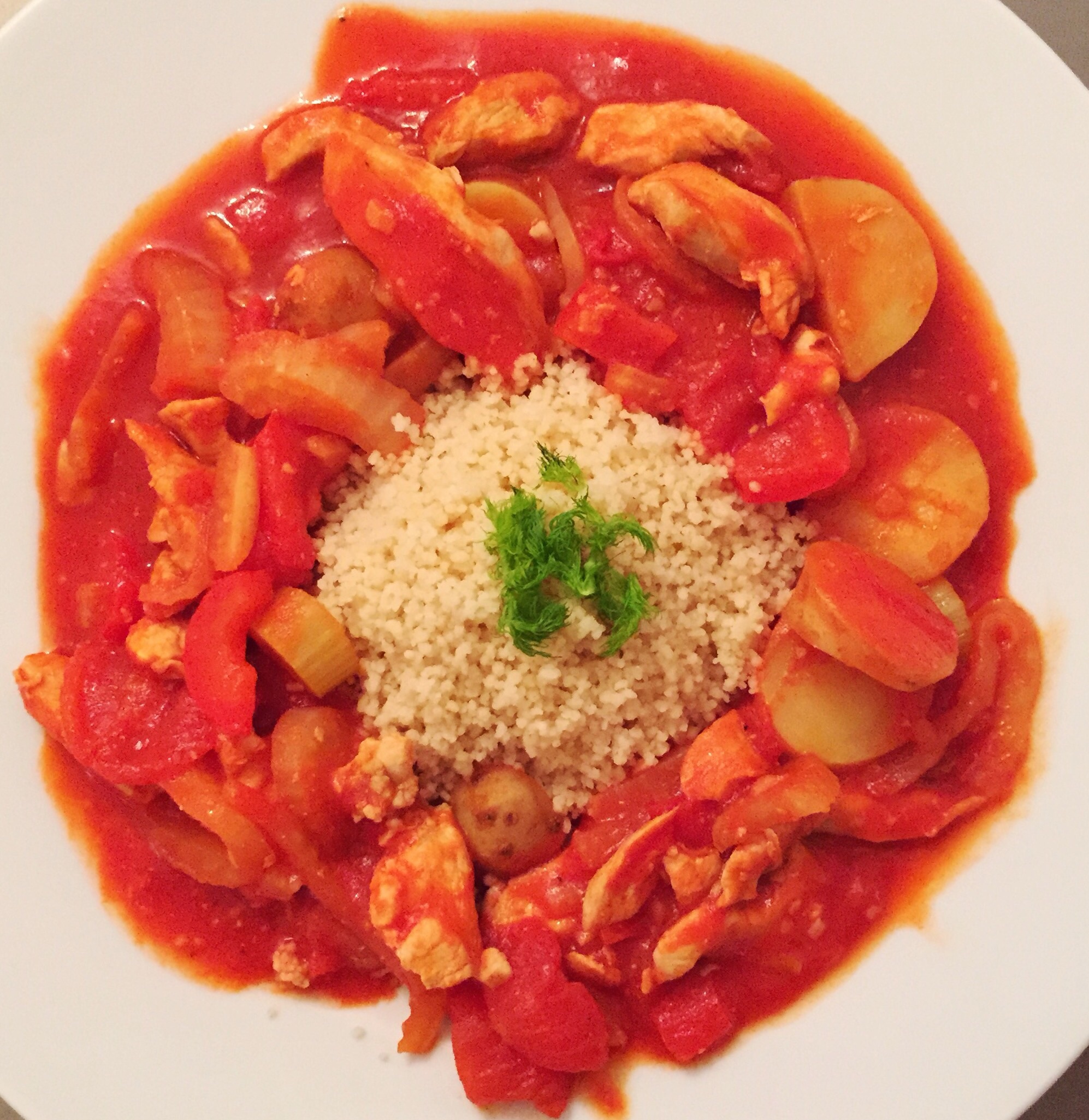 Comments : 1 Posted in :
CHICKEN FASHION SHOW
,
COMFORT FOOD
,
STEWS & CASSEROLES
on
by :
blonDISHious
Tags:
Chicken
,
Couscous
,
Fennel
,
olive oil
,
pepper
,
potato
,
tomato
I recently wrote about my new found love for fennel. The thing with a brand new "love" is: you can't get enough of it. The challenge is to satisfy your longing but not lose interest after a while. So you have to keep it interesting and diversified. And yes…I am still talking about food 😉
However, after the lovely fennel salad I recently made and posted the recipe of I thought it would be nice to make a warm and comforting dish with fennel. You might have noticed by now that I like chicken. So I wanted to add a bit of that to the recipe. Like always: you could easily give the meat a miss and add more potatoes or any other veggie of your choice to make it suitable for vegans or vegetarians.
And here we go:
INGREDIENTS:
2 tbsp olive oil
1 onion (chopped)
1 garlic clove (minced)
2 chicken breast
4 – 5 potatoes (quartered)
1 fennel bulb
1 can chopped tomatoes
150 ml chicken or veggie stock
1 red pepper (chopped)
Chilli
Salt & pepper
Couscous
METHOD:
Peel the potatoes, cut them in quarters
Cut the green tops off the fennel and reserve for decoration
Quarter the fennel and cut out the core
Chop the fennel
Peel and chop the onion and the garlic
Heat the oil in a pan over a medium heat
Add the onion and cook until translucent
Add the chicken and fry until lightly brown
Then add fennel and garlic
Cook for about 5 minutes
Tip in the potatoes and add the stock, pepper & tomatoes
Cover and cook for about 15 – 20 minutes until the potatoes are nice and tender
Add a bit of chilli and season to taste
Cook couscous as instructed on the pack
Serve ragout and couscous in a bowl or deep plate and decorate with the fennel fronds
Enjoy!
Have a blonDISHious day,
Sabrina xxx
1 COMMENT