10 January, 2016
SALMON ON BELUGA LENTILS WITH ORANGE-COCONUT SAUCE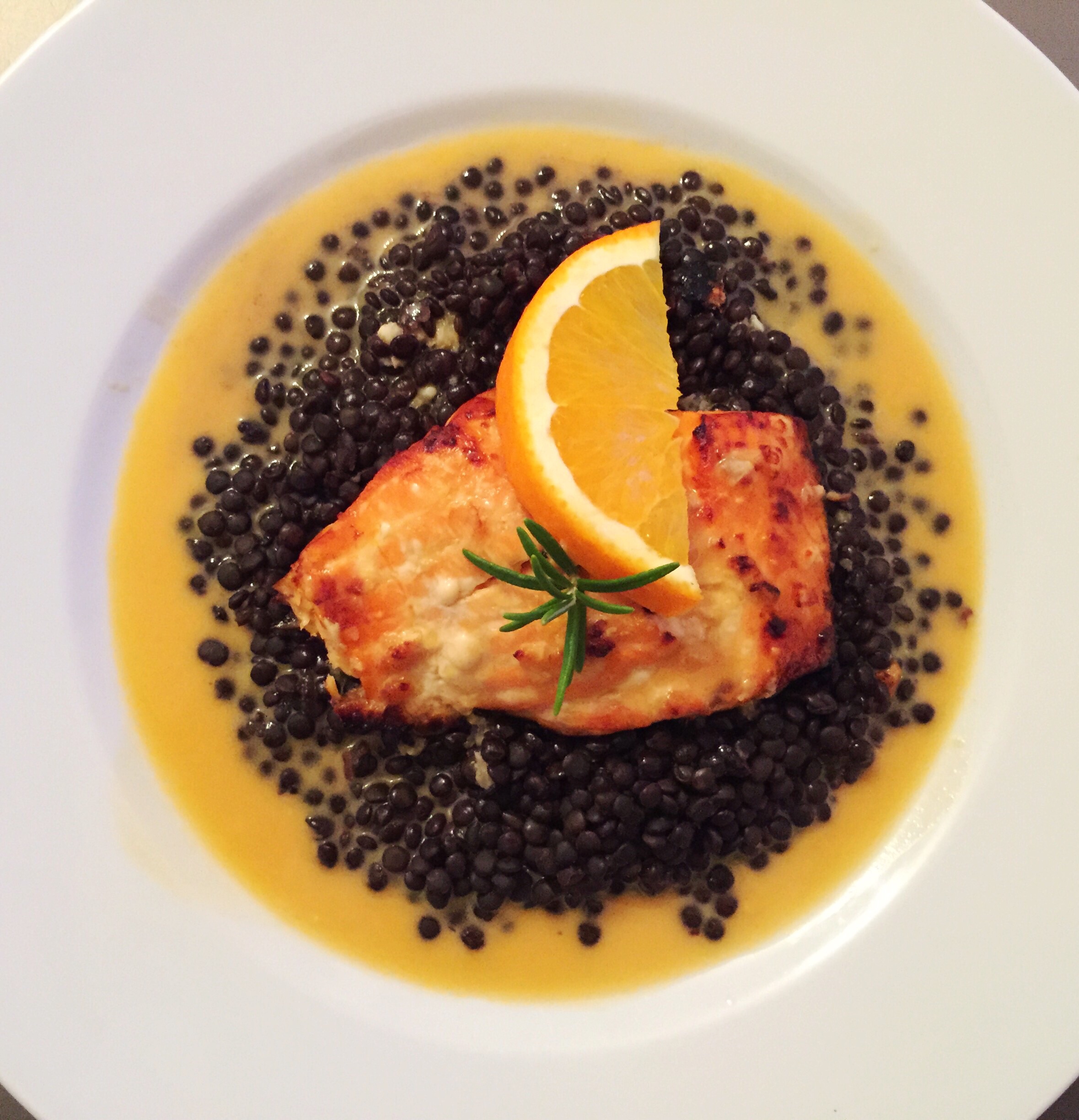 Comments : 2 Posted in :
FISHERMAN'S FRIENDS
on
by :
blonDISHious
In a previous recipe (Beluga Lentils Salad) I already "promoted" and praised beluga lentils.
Salmon & beluga lentils are a perfect combination and quite popular in the french cuisine. At first I thought of a lemon-mustard sauce to serve it with. It surely would have been lovely as well. But since I had some coconut milk and oranges left I decided to go towards an asian combo instead of a french one. A touch of ginger and garlic rounded off the dish nicely.
If you are vegan or vegetarian just swap salmon for tofu.
And here we go:
INGREDIENTS:
Fish:
2 salmon filets (with or without skin)
50 ml orange juice (freshly squeezed, if possible)
2 tbsp soy sauce
1 garlic clove (minced)
1 tsp freshly grated ginger
Orange-coconut sauce:
100 ml coconut milk
60 ml orange juice (freshly squeezed, if possible)
1 tsp curry paste
1/2 tsp honey
1/2 tsp freshly grated ginger
1/2 tsp minced garlic
1 tsp vinegar
1 tsp sesame oil
1 tbsp soy sauce
1 tbsp Worcestershire sauce
200 gr beluga lentils
METHOD:
Fish:
Mix orange juice, soy sauce, garlic and ginger in a bowl
Add salmon filets and marinade for about 40 minutes
Then place the fish filets on a lightly greased baking tin and bake on 200 °C for about 20 minutes
Cook beluga lentils as instructed on the package
Orange-coconut sauce:
In the meantime mix all ingredients (except of the soy sauce & Worcestershire sauce) in a small saucepan
Place on a medium heat and boil for about 1 minute
Add soy sauce and Worstersauce
Serve fish with lentils and sauce
Decorate with a slice of orange and herbs
Enjoy!
Have a blonDISHious day,
Sabrina xxx
2s COMMENTS