17 September, 2015
ASIAN NOODLE SALAD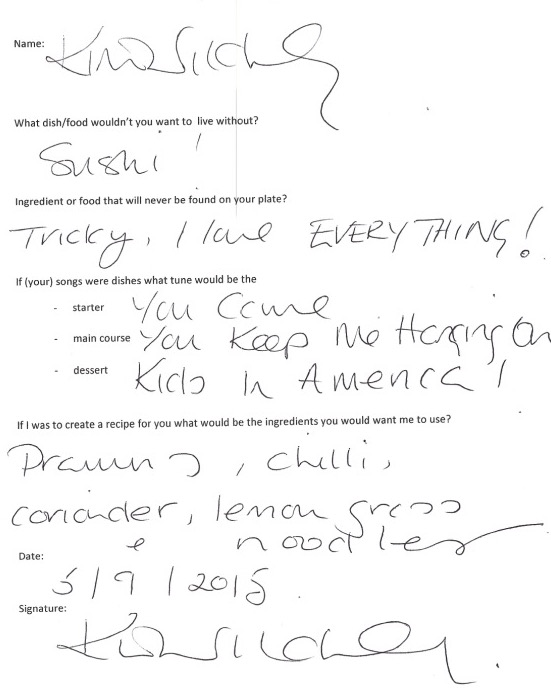 Comments : 9 Posted in :
CHOPSTICK KICKS
,
DINE STAR
,
FISHERMAN'S FRIENDS
on
by :
blonDISHious
Tags:
asian food
,
Chilli
,
coriander
,
glass noodle salad
,
healthy food
,
Kim Wilde
,
lemongrass
,
peanut oil
,
pepper
,
prawn
,
Thai
,
zucchini
My next "Dine Star" is also a special person that has a big place in my heart:
KIM WILDE
I've known Kim for almost 30 years. But even before I was lucky to get to know her personally her music accompanied me through all my teenage years and made some very sad and unpleasant moments in my life a bit more bearable (yes, music is capable of doing that!!!).
Kim is a very dear friend to me and I am not exaggerating when I say my life would be less fun without her in it. She inspired me to become a singer and songwriter myself. I played my first demo songs to her on a walkman as a teenager and she was always very honest and supportive. She is a great advisor and she knows how to encourage people to stick to their dreams and to never give up. On top of all she is a übertalented singer, songwriter, gardener, painter, radio host… and a stunning beauty, inside and outside with a priceless humour and a big, caring heart.
Well, I think you get an idea now… 😂
Kim is a good chef and does the best "Spiegelei" in the world. She loves food and appreciates a good white wine or a nice glass of champagne. Some of the many things we  have in common… 😉
I am excited, proud and happy that she agreed to contribute to my blog. It was a real pleasure to make this dish for her inspired by the ingredients she chose in the questionnaire. I hope she will forgive me for not using coriander on my plate. Sadly I very much dislike coriander. But it can be added to the dish, of course. I put it in the recipe anyway.
Cooked chicken cut in slices is also very nice, if you eat meat. Veggies or vegans can use tofu instead of prawns.
And here we go…
INGREDIENTS:
200 gr king prawn (peeled & cooked)
200 gr glass noodles
peanut oil
1 stalk lemongrass (fresh)
1 red or yellow pepper (chopped)
1 chilli (chopped)
1 small zucchini
2 teaspoons freshly grated ginger
2 tbs fish sauce
1/2 teaspoon of freshly grated garlic
2 -3 tbs dates syrup (or maple syrup)
juice of 1 lime (or half a lemon)
handful of fresh coriander or basil
METHOD:
Soak the glass noodles in a bowl of hot water until soft. That takes about 5 minutes. Drain and put aside.
Heat 2 tbs of peanut oil in a pan on medium heat and fry the prawns until done (I personally like them a little bit crisp). Put aside.
Chop pepper, lemongrass and zucchini and cook in a pan with a bit of peanut oil until they start to soften. But make sure they are still a bit "al dente". Add chopped chilli.
In the meantime prepare the dressing by mixing ginger, fish sauce, syrup, lime and garlic together.
Place the noodles, the prawns and the veggies in a bowl or on a plate and toss with the dressing.
Sprinkle with the herbs…and enjoy.
Have a blonDISHious day!
love,
Sabrina xxx
ARTIST INFO:
Kim is releasing a deluxe version of her Xmas album "Wilde Winter Songbook" including new songs and a bonus videos  DVD on December 7, 2015.
She also recently announced a new studio album in spring 2016 for which she is already writing.
WEBSITES:
OFFICIAL WEBSITE
OFFICIAL FANSITE
TWITTER:
FOLLOW HERE
FACEBOOK:
OFFICIAL FACEBOOK SITE
OFFICIAL FACEBOOK FANSITE
KIM WILDE REQUEST RADIO SHOW ON MAGIC FM (every Sunday from 11am – 1pm):
PLACE A SONG REQUEST HERE
TUNE IN HERE
WILDE WINTER SONGBOOK (2013):
BUY ALBUM HERE (UK)
BUY ALBUM HERE (GERMANY)
BUY ALBUM HERE (USA)
9s COMMENTS